FOR A VERY TALL BUILDING

we had to ensure that the lifts were able to travel fast to minimise waiting intervals for passengers. High speed elevators were specially brought in from Japan and used for the very first time in Singapore for this building.

Dr S. Nasim
Meinhardt Group Chairman
THE CHALLENGE
to engineer the tallest building in Singapore was exacerbated by several factors - the Feng Shui indicated tower position in the middle of a densely built up area, the requirement to build four levels of basements (the deepest in those days) and to build at a height that had never been built in Singapore and most parts of the world then.
A COMPOSITE STEEL STRUCTURE RISING
280 METER UP INTO THE SKY
boasting high speed elevators, column free floor plates and integrated building services was transcendental back in 1981. The One Raffles Place Tower (then known as the OUB Centre) was breaking new grounds, making it the tallest building in the world outside North America.
TO ENSURE A COST-EFFECTIVE DESIGN
for such a tall building, Meinhardt pioneered the use of a composite steel building using a mega frame for the very first time in Singapore. A Japanese consortium of 3 Japanese contractors led by Kajima and their specialist steel sub-contractor - NKK brought prefabricated steel, specially skilled workers from Japan to construct the building. Japan was the leader in tall steel buildings in those days.
FIRST COMPOSITE STEEL BUILDING IN SINGAPORE
---
TALLEST BUILDING OUTSIDE NORTH AMERICA (1981)
---
HAD THE DEEPEST FOUNDATION IN THE WORLD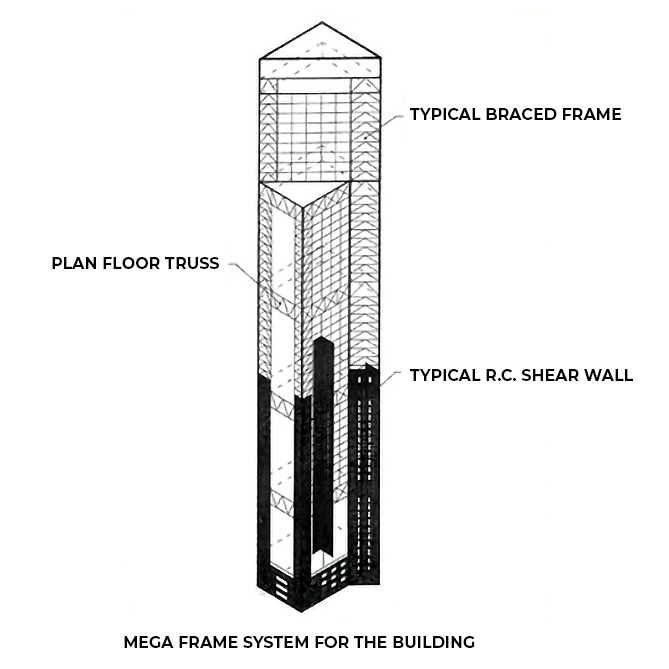 MEGA FRAME SYSTEM FOR THE BUILDING