As a high-rise building, it had inherent challenges - supporting gravity loads and lateral loads from the wind while maintaining an unusual sloping structure. The second challenge is that it is being designed in the city centre close to a national monument - the Telok Ayer Chinese Methodist Church. We needed to excavate 40m deep 3m away from this monument

Er. Kam Mun Wai
Senior Executive Director
Meinhardt Singapore
One of the newest
kids on the block in Singapore's Central Business District, Frasers Tower is a unique slender high-rise tower with a slopping façade that appears slim at the bottom, broadens in the middle and tapers off at the top. This towering visual masterpiece required some clever engineering to make it a reality.
235
METRE HIGH SKYSCRAPER WITH SLOPING COLUMNS


AWARDS
- 2020 - ACES Engineering Design Excellence Award
- 2019 - BCA Design and Engineering Safety Award
- 2018 - The Singapore Structural Steel Society – Structural Steel Excellence
- 2018 - IStructE Singapore Structural Awards – Award for Commercial Structures
- 2017 - BCA Green Mark Platinum
LOCATED JUST 3 METRES AWAY FROM A NATIONAL MONUMENT, CONSTRUCTED IN 1924 ON A PLOT OF LAND ABOUT THE SIZE OF A FOOTBALL FIELD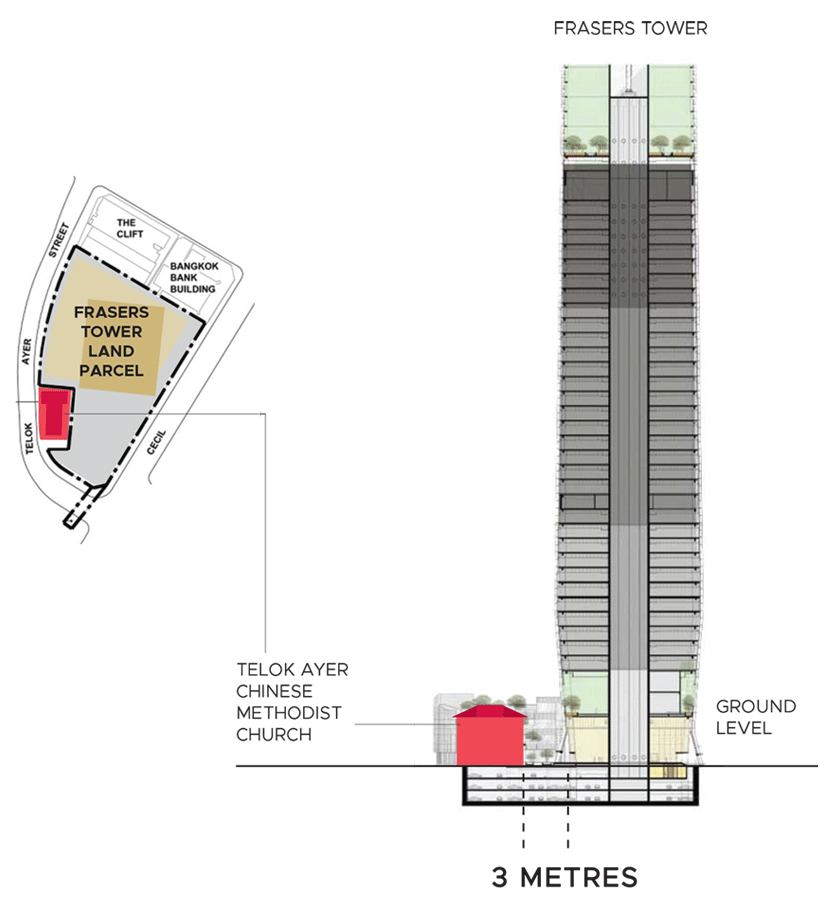 SUSTAINABLE RAFT FOUNDATION SYSTEM
with settlement-reducing piles for the high-rise tower and tension piles for the podium. The favourable ground stratum below the basement was strategically considered to provide support to the building structure. Piles were introduced to reduce stress concentration and control settlements. The use of this innovative hybrid foundation system for a high-rise building resulted in substantial time and cost savings, compared to a conventional fully-piled foundation system.